On the Water Activities - Queens Jubilee Saturday 4th June
Published 23:55 on 20 May 2022
On the Water Activities

Queen's Jubilee Saturday 4th June
The Hudson Cup will be run as an orienteering event and will be followed by 'Try a Boat /Kayak / paddleboard' sessions. There will also be opportunities to try rowing.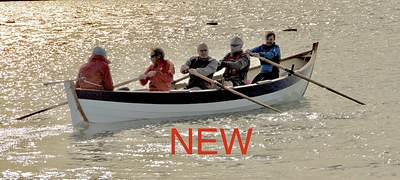 Club boats can be booked free of charge using the link below:
Club Watercraft JUBILEE booking Here

Dinghies must have a club member in them
Someone in the club dinghies must be a minimum of RYA 2 standard
Juniors using club craft must be authorised by a responsible adult club member
Buoyancy Aids must be worn on the water and pontoon at all times
To ensure as many people as possible can join the fun please do not book multiple slots, though please note you need to book a triple slot for the Sup/Kayak Hudson Cup orienteering (counts as one). If any craft have not been booked in advance they will be available for booking on the day.
Highwater is at 3:34pm.
1.30 - 3pm - Hudson Cup Orienteering
The orienteering event entails going to as many points as possible in a set time. There will be two events running concurrently; one for paddleboards/SUPs and one for dinghies. There will be a briefing at 1.30pmfor all in the boat shed under the clubhouse, please make sure you attend.
The start will be at 2pm prompt. The start for kayaks/SUPS will be by the slipway/pontoon and the start for the dinghies just beyond the blocks out of the tide, so please make sure you are rigged/changed before the briefing to leave time to get to the start.
Club craft should only be booked during this time if you are joining in the Hudson Cup orienteering event. If you are using a club craft, you need to book a double slot.
To help us plan the event and get the results out efficiently please sign up on this form HERE.
3-5pm 'Try a Boat'; kayak/SUP dinghy
Club craft, dinghies, kayaks and SUPs are available to try from 3pm. Dinghies are available for 1hr slots and kayaks/SUPs for 30min slots. Please book your slot via the link
Club Watercraft JUBILEE booking Here

Last updated 00:17 on 8 June 2022